The 2021 Subaru Love Promise Customer and Community Commitment Award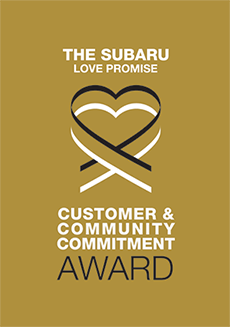 We've been nationally recognized for our dedication to our customers, our community, and the Subaru Love Promise.
We're honored to receive the 2021 Subaru Love Promise Customer and Community Commitment Award. This award nationally recognizes elite Subaru retailers who provide an exceptional customer experience at every interaction with Subaru. These retailers have also demonstrated an outstanding commitment to supporting passions and causes in their local communities in important areas such as the environment, community, health, education, and pets.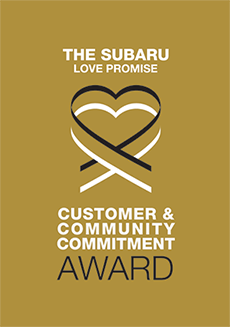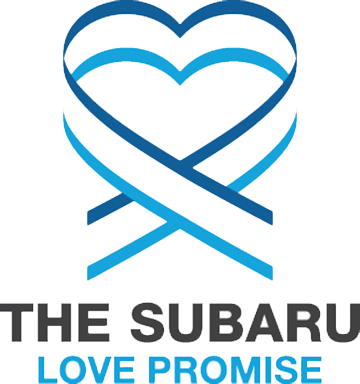 What is the Subaru Love Promise?
Subaru and our retailers believe in making the world a better place and the Subaru Love Promise is our vision of respecting all people. This is our commitment to show love and respect to our customers and to work to make a positive impact in the world.
How is Van Bortel Subaru of Rochester dedicated locally to the Love Promise?
At Van Bortel Subaru, our Love Promise to the Rochester and Finger Lakes region can be seen in our proud support of meaningful causes through our partnerships with local organizations, charities, and nonprofits. We're grateful not only to be a part of our community, but to serve it as well.
Lollypop Farm , Humane Society of Greater Rochester, Operation Freedom Ride
ADK, Adirondack Mountain Club , Genesee Valley Chapter
The Norman Howard School, The National Susan B. Anthony Museum & House
IACKids: It's About Caring for Kids, House of Mercy, Coffee Connection / Project Empower
Wilmot Cancer Center, Breast Cancer Coalition of Rochester
Love Promise Stories from Van Bortel Subaru of Rochester
Subaru and Van Bortel Subaru of Rochester believe in making a positive impact on the communities in which we live and work. We uphold that belief through our Love Promise Community Commitment. Every month, we select inspiring stories from customers and partners from around our area who strive to support our collective commitment and feature them here
Fana's First Car - Fana T
Kitty Van Bortel made it possible for Fana T. to purchase her very first car, a used Subaru. It is life-changing for a single mom with a 12 year old daughter. Fana has worked incredibly hard to overcome numerous challenges, and has relied on rides from friends or public transportation for years - very difficult when you are going to school, working, attending support programs, getting your child to varied appointments, and doing everything possible to build a solid life with limited resources. Kitty hand-picked what she thought would be the best car for Fana, kicked in some of the funding needed along with two of Fana's friends to supplement what Fana had been able to save over a couple of years, and made sure her staff got the car in tip-top shape before Fana took possession. Fana and we who care for her so much are incredibly grateful for Kitty's personal attention to this need, and to her genuine caring for women who are working diligently to overcome the difficulties in their lives.
---
Van Bortel Subaru - Mark D
We want to send a special thank you to the employees at Van Bortel Subaru of Rochester who spent a recent afternoon with us volunteering at one of our Foodlink food distributions. Foodlink, a food bank based in Rochester, NY, serves a 10-county region in the Finger Lakes region of western New York. To date, we've organized more than 600 drive-thru food distributions to help alleviate the rise in food insecurity caused by the COVID-19 pandemic. About 40 of those distributions have been held -- almost on a weekly basis -- in our parking lot in northwest Rochester. More than 300 households are served during a typical distribution. Although the pandemic has forced us to abandon "group" volunteer experiences for much of the past year, we were pleased to finally open up that opportunity with proper safety protocols in place, and Van Bortel Subaru was among the first groups we called. They were on our short list of partners because of the amazing partnership formed between Subaru and Feeding America food banks this past year. Subaru mobilized quickly to send a group of volunteers to our facility to help distribute food into people's vehicles on a beautiful spring day. We can't thank them enough for their support, and their willingness to see first-hand, how big of an impact that the Subaru Loves to Help campaign has had on communities nationwide.
---
Watson the Underdog - Carly H
As one of the owners of Operation Freedom Ride in Rochester, NY I am able to see firsthand how partnering with Van Bortel Subaru has helped us save many animals! In the past they have collected donations from the community for us and promoted our rescue through branding on their website, Facebook page and billboards in the community. This initiative in particular is the biggest one yet and will help us pay for a lot of vetting fees and also transportation of animals from underfunded shelters in the south up to Rochester. Here is the story of one of our underdogs named Watson. Saving dogs like Watson is feasible due to partnerships and sponsorships from companies like Van Bortel Subaru! Watson was in rough shape when we saved him. He was in a crowded underfunded shelter in the south. The kennels were damaged and falling apart and another dog broke loose. This other dog attacked sweet Watson and almost killed him. When the shelter worker arrived to the scene she said it was a blood bath. Watson was badly injured and terrified. He was also heart worm positive needing treatment that's very rigorous on the body. In the condition he was in after the attack, he wouldn't survive undergoing the treatment in the stress of the shelter. We got him into a calm, safe foster home where he could start treatment and begin working on getting healthy enough to make the trip to NY. This young pup about a year old had a will to persevere! After given time to heal, rest, decompress and finish his treatment he was finally ready for his freedom ride to Rochester , NY where he was adopted by an amazing family. He now is in the best home ever living the good life, soaking in all the love and attention he deserves. He's the absolute best family dog and spends his days playing, eating treats, and loving on his humans!
---
Our Champion! - Meredith U
The Breast Cancer Coalition is grateful to Kitty Van Bortel and Van Bortel Subaru for sharing the love with us! Thanks to your ongoing partnership our programs and services are offered free of charge; regional breast cancer research is funded; and legislative policies impacting breast cancer survivorship and research remains a priority. Cancer does not stop due to a pandemic, and neither do we. Moving our programs online and continuing to support our survivors has been possible because of generous support from partners like Van Bortel Subaru. The Breast Cancer Coalition is truly grateful to Van Bortel Subaru for all that you do to help breast and gynecologic cancer survivors in our community!
---
Boston's Story - The Subaru Love Promise - Norm A
When I first heard the term "The Subaru Love Promise", I was intrigued to find out more about it. It was natural for me to assume it was about Subaru's commitment to quality, excellence, and outstanding service to the customer. So what's new about that? In fact in my thirty some years of experience with Van Bortel Subaru, that's exactly what my family has received, every time! It started the very first time my wife and I met Kitty Van Bortel, and her Sales Manager, Peter Rosser in Victor, NY. I knew instantly that Kitty was destined for success and greatness in a very competitive industry when she had changed the industry pricing methodology to a single, fair and competitive price for a car without the usual haggling to get to the bottom line, backed by Subaru's quality and superior service. I could dwell on the many accolades and awards that Kitty has won over the years, including being named in The Top 100 Women Executives in the United States; the list goes on and on and will continue. The fact that Kitty and Peter still work together after so many years is demonstrative of their loyalty and integrity. But, I found out The Subaru Love Promise goes far beyond just the selling of cars! It is the vision to show love and respect to all people at every interaction with Subaru. Van Bortel Subaru has made a lifetime connection with our family, so much so, that we have owned 8 Subaru's. It is Van Bortel's dedication to excellence in every respect that makes them stand heads and shoulders above their competition. The honesty and integrity shown is beyond reproach. The primary category of The Subaru Love Promise which I think that Van Bortel Subaru personifies is "Subaru Loves to Care". This category really hits home as our grandson, Boston, age 10, was born with cerebral palsy and cannot stand or walk in spite of 5 surgeries including one wherein he was in a full-body cast from chest to toes for six weeks. Despite that, his passion is to play golf every day, and our family of four generations of golfers helped him around the course, but it became too arduous. After significant research, we found a "paramobile" which enables him to stand up and do many activities. The cost of the paramobile is expensive, but well worth it, so we came up with the idea of a "fundraiser". It is with this "Love to Care" that Kitty Van Bortel volunteered to become our major sponsor for our fundraiser. She reviewed and offered guidance, expertise, and love to support a physically challenged boy. Members of her staff, Peter, Ruth, Alex all participated in the development of our fundraiser. It was not unusual to have discussions even on weekends. Her entire staff was committed to the success of our fundraiser. In fact, due to the coronavirus and the stringent social distancing efforts, the announcements and introductions were held on an asphalt parking lot on a hot, sunny, 90 degree day. Kitty and her staff selflessly endured those conditions to make our fundraiser successful. The end result of this "Love to Care" by Kitty resulted in raising nearly $40K for the "Stand Up & Play Foundation" which has provided a paramobile and trailer for Boston, with any excess going to other physically challenged people. Most importantly, Subaru, Kitty, and her staff, have directly impacted and positively improved our grandson's life. For that reason, we nominate Kitty Van Bortel for the role model of "The Subaru Love Promise".
---
A Subaru and heartwarming experiences to love. - Micheline D
I am so happy with my purchase (I love my Subaru!) and with the outstanding and friendly service I have consistently received from Van Bortel Subaru of Rochester, from all areas of the dealership. Everyone who helped me, and especially Steve Mueller (Service Manager), Cassandra Conklin (Service Advisor), and Amy Zimmer (who sold me my car), was wonderful. This is my ninth car in my life, and my first Subaru (I've owned Hondas and Volvos in the past). This is also the first time I brought my Subaru in for service, and I keep telling my friends and family how impressed I am with every experience I have here. Amy has been outstanding, helping me past the sale with genuine caring and very quick help; Cassandra was amazing, very skilled and efficient and also compassionate when I told her I had asthma, making sure there were no odors in the car that would trigger my asthma before she released it to me; Steve put my mind at ease, listening to my concerns and making me feel comfortable with answers to my questions. Everyone else whom I have met has been very helpful, friendly, and knowledgeable, making every experience here satisfying and heartwarming. From my 30 years of car ownership experience, that type of service is very rare -- especially these days -- and I am grateful to have this wonderful team helping me with my car now and in the many years ahead that I plan to have this car. Thank you!
---
Our Coffee Connection. Brewing a Better Tomorrow. - Joy B
Brewing a Better Tomorrow. One Cup, One Day, One Woman at a time. The Coffee Connection/Project Empower is honored to supply our excellent coffee to Van Bortel Subaru and all of the Van Bortel dealerships in the Rochester, NY area. There are many ways to empower women in recovery from addiction, trauma and incarceration and one way is to support the business that supports their program, providing them with employment training—and jobs! The Coffee Connection's staff is made up of employees and interns, all of whom have a history from substance abuse. But that's not all Kitty has done for us! She hosted us for a retreat at one of her dealerships and spent the day listening and encouraging our women. We have a beautiful logo that Kitty's support translated into signage on our windows. Kitty produced a video for fundraising and continues to support us, taking a personal interest in women that are on their journey to self-sufficiency. As our women become the leaders that will carry our mission into the future, we know that Kitty will be our cheerleader and supporter.
---
Supporting people with food for the holidays. - Stephanie B
House of Mercy was delighted when we found out that employees of Van Bortel were eager to donate their holiday turkeys and hams to The House. This meant we could support more people in the community with fresh meat and food for the holidays. Catherine Mcauley, the founder of Sisters of Mercy says "No matter how small the gift, God gives the increase." We are eternally grateful to our friends at Van Bortel for giving so selflessly.
---
Thank you Van Bortel Subaru for all the love! - Meredith U
The Breast Cancer Coalition is thankful for once again being selected as the local charity to receive funds from Van Bortel Subaru's annual "Share the Love" event. Kitty Van Bortel's leadership and extraordinary philanthropy in the Rochester community, specifically her investment - both personally and through fundraising efforts – in the Coalition is a partnership we truly value. Recognized as the only non-profit organization positioned to help in the aftermath of a diagnosis, Van Bortel's ongoing support enables the Coalition to continue being the full-scope, community-based resource, known in the region for the "what now?" following a diagnosis. Kitty is a beloved presence among us. Having twice served as Honorary Chair of our annual Breast Cancer Gala, the ARTrageous Affair, she has been the Presenting Sponsor of that event, as well as our Pink Ribbon Run & Walk, for the past two years. In a multitude of ways, Kitty and Van Bortel Subaru continue to support the Coalition's programs and services, which are provided at no cost to those diagnosed with breast or gynecologic cancer in our region. She is a shining example of a local business person who "shares the love" while keeping it local, and we are truly appreciative for all she does for those we serve.
---
Thank you Kitty Van Bortel for caring! - Neil B
In 2012, It's About Caring for Kids, Inc "IACKids" was created to help local families in Rochester experiencing financial challenges due to their child's severe medical condition. In our first year, we had the privilege to sit down with Kitty Van Bortel to discuss our mission and the impact it would have on not only kids, but on parents in our community. We created IACKids to allow working moms and dads the ability to take unpaid medical leave from their jobs so that they could not only be by their sick child's side, but so that they could also give their other children the attention they required. IACKids pays for household and medical expenses during the unpaid leave so that parents do not have to focus on their bills but rather focus on their ill child. When Kitty learned about the work we were doing for local kids and especially their moms, she jumped in with open arms to support our mission. Since 2012, Van Bortel Subaru has been our largest donor and has allowed IACKids to take on many more new families that we would've had to reject without the company's help. She even helped us in the purchase of five new leased vehicles for five of our families in 2017 that had vehicles with over 100,000 miles on them. We wanted, as did Kitty, to have the families of these sick children to have reliable transportation to their many doctor and hospital visits. In 2019, IACKids named Kitty Van Bortel our Humanitarian of the Year for her incredible contributions to the families served by IACKids and we are so thankful for all that she does for our entire community. It truly takes a village to help those in need and Kitty / Van Bortel Subaru has stepped up for us year after year. We are so thankful and have the utmost admiration for this amazing philanthropist and her incredible caring heart.
---