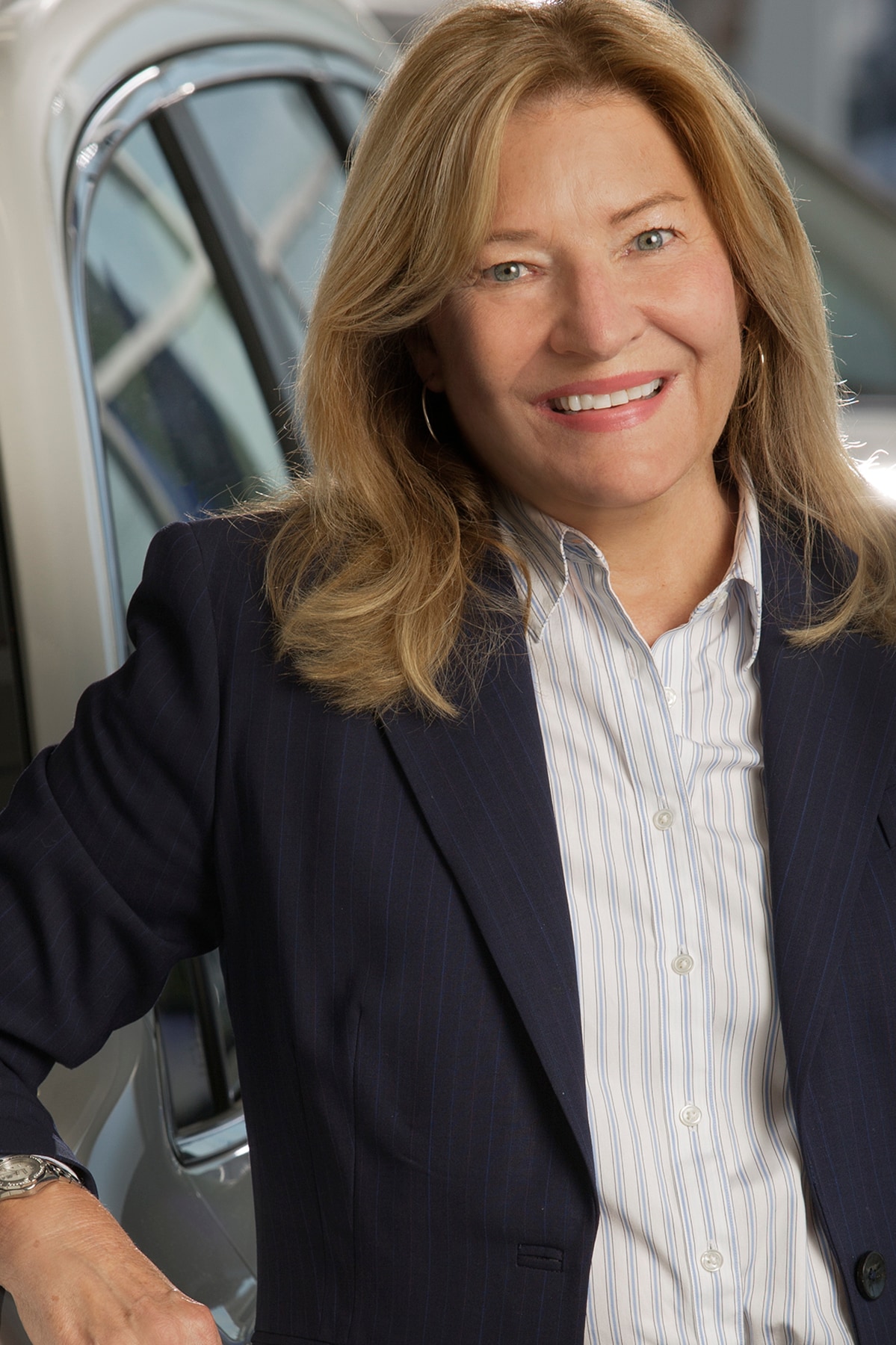 When you meet Kitty Van Bortel, as so many customers of her three dealerships do every day, you know that she's the powerhouse behind the enormous, consistent success of Van Bortel Subaru, Van Bortel Ford and Van Bortel Chevrolet. Kitty owns one of the top selling Subaru dealerships in the nation, as well as one of the most successful Ford dealerships in a multi-state area. Her automotive group is now one of the fastest growing, privately held companies in the greater Rochester, NY area.
With an investment of only $500, Kitty founded her first used car dealership in her front yard in 1985, lining up the cars in front of her small house in Victor, NY. She applied the experience she had gained as sales manager for John Holtz's Mercedes Benz/BMW dealership to her own enterprise, moving to a three-acre lot in 1990 and quickly gaining momentum until it was time to choose a brand and move into new car sales. It was only natural that she became attracted to Subaru because of their sturdy construction, excellent design, and focus on safety, reliability and comfort. She built a 6,000-square-  foot facility in Victor to house Van Bortel Subaru, and opened the doors in 1991.
Kitty approached new car sales with a unique philosophy; She instinctively became the kind-hearted dealer. "I trust people, and I always have," she said in a recent keynote speech to the Greater Rochester Chapter of the National Association of Woman Business Owners. "And when you trust people, people will trust you. That's why we give our customers a fair price, and all the information they need to make a sound decision, and then we allow them to take the time to make that decision. No tricks, no games."
Van Bortel customers are offered one price for each car, with full disclosure of the vehicle's base price, the cost of the options chosen by the customer, the manufacturer's suggested retail price, and the price offered by Van Bortel. By removing the negotiation process from the purchase, Kitty Van Bortel takes the fear out of buying the car. The customer knows without a doubt that he or she has paid a fair price for the vehicle.
 In just one year after opening Van Bortel Subaru, Kitty was inducted into the Subaru Chairman's Roundtable-a select organization of the top 20 dealers in the nation who display excellence in sales and customer satisfaction. She has remained a member every year since 1992, and today Van Bortel Subaru maintains a 70% or more market share in Subaru sales in the Rochester area, an achievement that dates back to 1997. In 1999, Van Bortel Subaru became the largest Subaru dealership in the nation.
With this exemplary record of success, it was only natural for Ford Motor Company to select Kitty to become a Ford dealer in 2001. She opened Van Bortel Ford just a short drive down the road from the Subaru dealership in Victor, NY, and by 2002 the new dealership became Blue Oval Certified, an indication of Van Bortel Ford's immediate and consistent success. Van Bortel Ford quickly rose to become the highest volume selling Ford dealer in the market-beating 10 other Rochester area Ford dealers.  Van Bortel Ford is the 5 time recipient of the prestigious Ford President's Award given for delivering exceptional sales, service, and vehicle ownership experiences. Van Bortel Ford is also the 3-time winner of the ONE Ford Elite Dealer recognition program that identifies Van Bortel Ford as one of the very best Ford Dealers in the nation.
 Kitty is more than a smart, successful business owner. She is also a well-recognized role model for businesswomen in the greater Rochester area and throughout the nation. Working Woman magazine selected Van Bortel Subaru as a Top 500 Woman-Owned Business for four years running. She previously was honored as a Wells College's Alumni of the Year, and received the Alfred University's "College of Business Galanis Award" for excellence in family business. Kitty was also recognized as one of the 100 Leading Women in the North American Auto Industry by Automotive News, as well as, "One of Rochester's Most Influential Women" by the Rochester Business Journal. She was nominated as the Rochester Small Business Council's "Business Person of the Year" and was the recipient of the Herbert W. Vanden Brul Entrepreneurial Award from RIT's Business School. Further, Kitty was inducted into the Junior Achievement Business Hall of Fame and received the Rochester Women's Network "W" Woman of the Year Award. In 2011, she won the Rochester Women's Council Athena Leadership Award.  In 2016, Kitty was selected as the Time Magazine Dealer of the Year, the most prestigious award a new car dealer can receive.
 Kitty's commitment to the community she calls home is evident in the many non-profit organizations she and her automotive group support. The Van Bortel dealerships sponsor the Susan B. Anthony House, the Breast Cancer Coalition of Rochester, Girl Scouts of Western New York, IAC Kids, Gilda's Club, Serenity House, Leukemia Lymphoma Society, Golisano Children's Hospital, Pluta Cancer Center, Mercy Flight, Embrace your Sisters, and local Rotary and Kiwanis clubs. Van Bortel even conducted a yearly car buying seminar for pediatric interns at the University of Rochester.
In February of 2010, Kitty purchased Fairport Ford and moved her entire Ford operation to 71 Marsh Road in Fairport, which is a larger, more modern facility allowing her to better serve Van Bortel customers. In 2012, Kitty purchased the Chevrolet dealership in her hometown of Macedon. She has grown the dealership sales and services by over 6,400% since the initial acquisition. The prior ford dealership on Route 96 is now used for housing and tracking Van Bortel Ford and Chevrolet's extensive fleet business. By growing three businesses to region-wide leadership while never compromising her principles-and always giving the customer a fair deal and a satisfying car buying and maintenance experience-Kitty Van Bortel turned a $500 investment into one of the most successful and respected enterprises in the area, emerging as a leader in business, in commitment to the community, and in treating every customer the way she herself would want to be treated, every day.